The Mahwah Robo T-Birds are a FIRST Robotics team from Mahwah High School, New Jersey. The team consists of students who attend Mahwah High School and have an interest in robotics, engineering, computer science, mathematics, and business.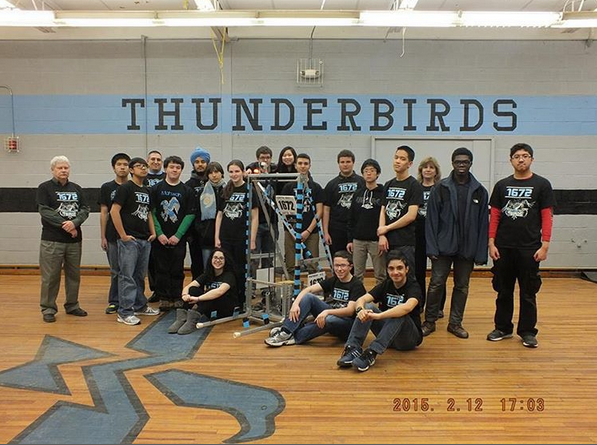 The Robo T-Birds originally began as a small robotics club. The club mainly focused on the use of the TI-83's to program small robots to do simple tasks. Mr. Bruce Light, a Mahwah High School math teacher, heard about the club, and decided to transform it into a FIRST team, and since 2005, the Robo T-Birds has been competing within FIRST Robotics. Over the years, hundreds of students have gone through Mahwah's robotics program and it continues to grow as a team and as a community with a common passion for robotics.
There are many different aspects of the Robo T-Birds, and as the mentors always emphasize, its not just about building robots. The building aspect encompasses three different branches of the team: mechanical, electrical, and programming. Although it's important that we have team members equally spread out through the different Build types, we must have team members that have a passion for business, media and promotion, and public relations.
Within the media and promotion branch, we make sure the team's website, Twitter, and Facebook pages are all active and up to date. Additionally, we have a YouTube channel with a weekly vlog series that documents the team's progress.
For Public Relations, we must make sure that we are active within the FIRST community. Public Relations team members also deal with competition rules and regulations. Through PR, we also organize bake sales and other fundraisers, and make sure the Robo T-Birds is known throughout the local community.
Business is by far one of the most important branches of the team. FIRST emphasizes the importance of a proper business structure. Every team has to manage its funding in order to be able to build and compete. Without an organized way to manage finances, the team will not succeed as hoped.
It is therefore important that we have a diverse team who's members are interested in not only engineering, but also business and media. We have created a chart that visualizes our team's structure. Take a look at the chart and see where you fit!
A large portion of the members of Team 1672 come in to the program with little to no experience in engineering. To remedy this issue, starting with the 2016 season, we are taking a completely different approach to how we introduce robotics to new members. Build Season begins in January, so from October through December, we will be having a build challenge selected from Mahwah's Robotics Class. This will give the new team members a first hand experience at building a robot with a time restriction.
During this two month time period, the veterans will aid teammates in designing and constructing a robot to move a basketball. This includes: how to build using various tools, proper safety procedures, how to wire the electronics, and how to program. At the culmination of this two month practice building seminar, the new members will be extremely experienced. This is a definite benefit the team, since team operations will run smoother throughout the build season. We hope that this new introductory practice robotics challenge will allow students to think outside the box in a fun and collaborative environment.