The 2015 First Robotics Competition game was titled Recycle Rush. This game involved stacking totes on scoring platforms and placing a recycling can on top to apply a multiplier to the stack. In comparison to past games, this is one of the first challenges that required a robot with functions similar to robots used in the industry. Along with Fedex, First inspired students to create practical designs that could be applied to the real world.
Our 2015 Robot was built by students with only one fabricated part. We decided to create a passive lift which required a single mechanism to raise the forks. These forks used Lexan polycarbonate to fit into the lip around the edge of the tote and support it. In order to line up each tote with ease, we decided to stray from our standard tank drive and convert to a mecanum drive. This allows for strafing which was extremely beneficial in this year's game.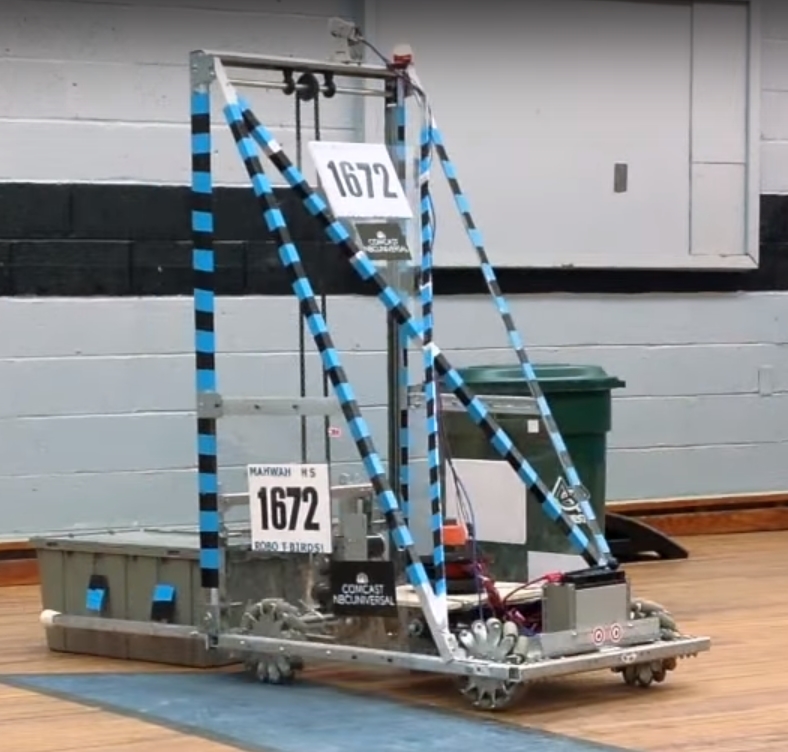 With the new control system, we also brought in new programmers, the robot code was written in Java and featured multi-threading to remove input lag and allow for simultaneous inputs from the driver.
We would like to thank NBC Universal for sponsoring our 2015 robot as well as mentoring us throughout the process. We learned a lot about industrial design and code from you and we hope to be able to work with you again next season.